This is definitely the most revolutionary video I have ever seen - it is sure to alter the way you think. The parameters of possibility have just overstepped the mark. This is literally amazing but they do not say anything about what it cost. It seems to me it would be quite useful for making parts for autos, boats, planes, space ships. What next?
Good Morning Humboldt County!
I've got a pot of virtual coffee on and your welcome to a cup.
A new week begins with some real Star Trek stuff as things are scanned and then replicated in a 3-D form.
This technology amazes me because I've never heard of it before. Have you?
 I must be more out-of-touch on modern technology than I expected.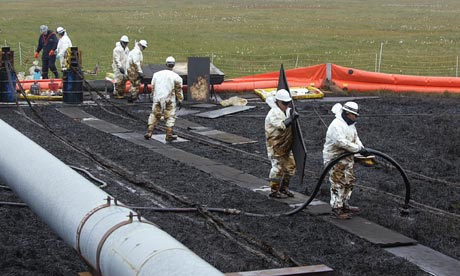 BP pipeline leaks oily mixture onto Alaskan tundra
BP reported yet another pipeline leak at its Alaskan oilfields, frustrating the oil giant's attempts to rebuild its reputation after the Gulf of Mexico oil spill.
BP said on today that a pipeline at its 30,000 barrel per day Lisburne field, which is currently closed for maintenance, ruptured during testing and spilled a mixture of methanol and oily water onto the tundra.
An eight-term congressman from Iowa helped fight off an armed man who invaded his farm house in Decatur County and attacked his daughter on Saturday night, according to a statement from his office.
The attack occurred around 10:45 p.m. on Saturday at a farm in Lamoni, where Rep. Leonard Boswell, a 77-year-old Democrat who represents Iowa's third congressional district, was spending the weekend with his wife, daughter and grandson.
"The intruder entered the front door of the farm house and physically assaulted Cindy while demanding money at gunpoint," read the statement from Boswell's office.
After hearing his daughter's screams, the congressman "entered the walkway of their house and immediately went for the guy's gun and was wrestling with him. They were both on the ground," Boswell's chief of staff Grant Woodard told local news station KCCI.While the two scuffled, Boswell's 22-year-old grandson Mitchell Brown grabbed a shotgun from a nearby room and confronted the intruder, who then fled into the surrounding field.
Time to walk on down the road…