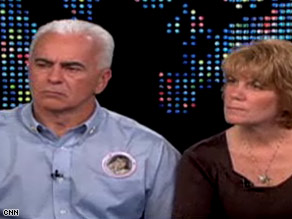 It looks like the saga of his murdered granddaughter was too much for George Anthony, as family members contacted police to find him yesterday after fears he was going to kill himself. He was found in a motel room a few counties away from where the Anthony's live.
I've always suspected the grandparents knew more than they were saying. I still recall that early phone conversation where Cindy Anthony said the car smelled like a dead person.
George made comments to the same effect, at first. But as time went by they both changed their story. My guess is that they decided that they didn't want to lose a daughter too, and agreed to lie to the authorities about what they really knew.
But George, an ex-cop, has a conscience, and it's what I believe drove him to consider suicide. Holding a terrible secret like that will eventually take it's toll. I have a feeling, before this whole mess goes to court, that George and Cindy are going to get in trouble for lying about what they know their daughter did.
AP file photo